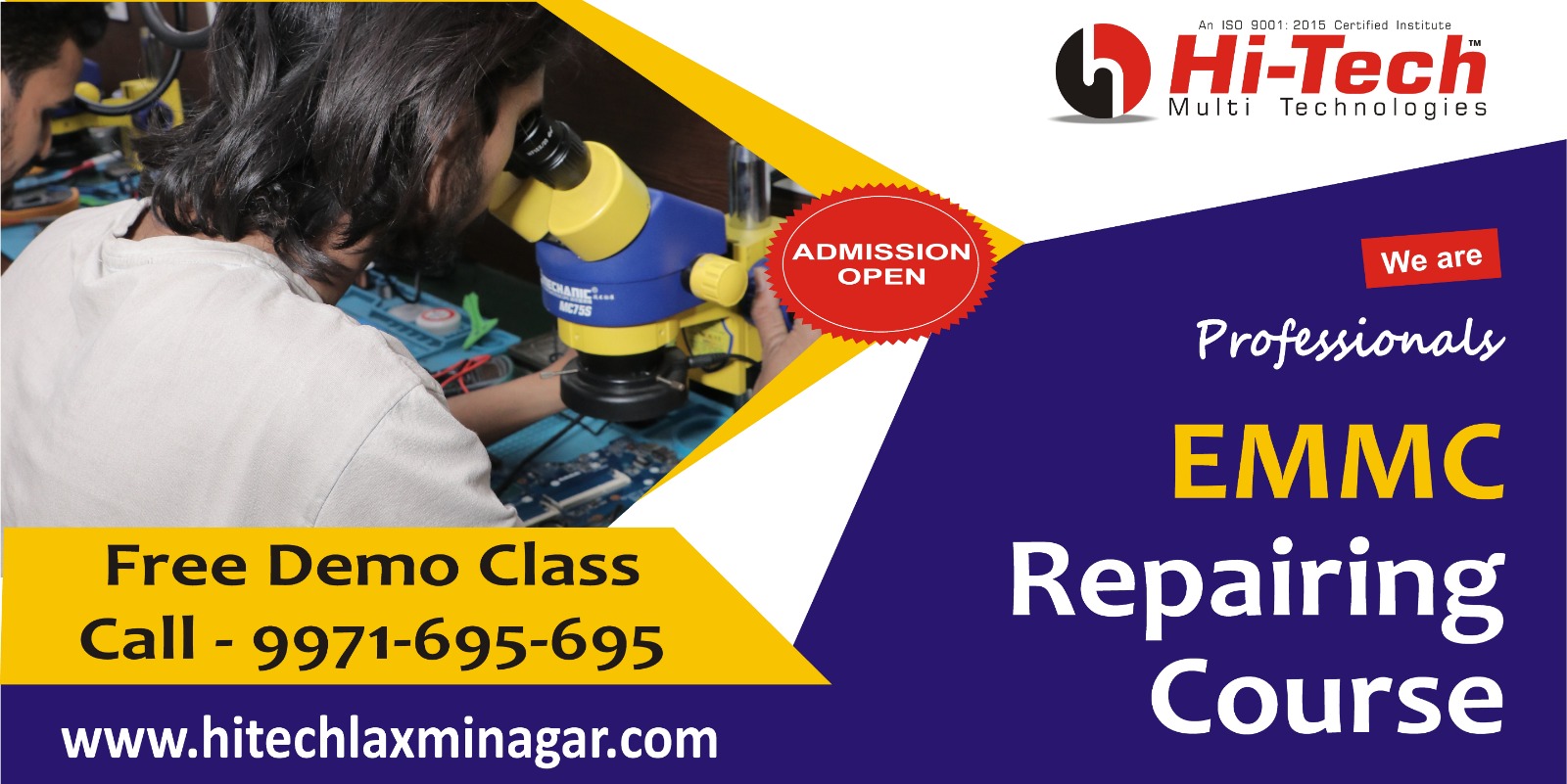 Mobile, Laptop, Computer Hardware Repairing Course in Laxmi Nagar
Hi-tech institute conducts Mobile repairing, Advance mobile repairing, Laptop Chip level repairing, Card level laptop repairing and Computer hardware repairing courses in Laxmi Nagar, Delhi. With our skillful trainers we train students in all areas of complexities and possibilities. We are one of the leading training providers in Laxmi Nagar, Delhi with fully equipped laboratories and comprehensive training course for our students as well as professional. We have designed detailed and specific training methods that are easy to understand. At the institute, you get high-class training in order to become income expertise in mobile repairing, advance mobile repairing, laptop Chip level repairing, card level laptop repairing and computer hardware repairing courses in Laxmi Nagar, Delhi.
Quality Services We Conduct at Hi-tech institute in Laxmi Nagar, Delhi
Sharper and Advanced Mobile Repairing Course
Mobile technology has gone advanced with the arrival of various mobile phones in the market. With a lot of use there is also need of some brilliant minds to resolve its problems. Being a forefront mobile repairing institute in Laxmi Nagar, Delhi offers high quality of mobile training in short period of time. We are offering opportunities to all students in our Training institute to improve their technical skills.
Wide Expertise Provider Laptop Repairing Course
Laptops are becoming more and more widely used. Our laptop chip level repair training course enunciates a deep ability of "how a Laptop works". It put emphasis on practical training, and hands-on solutions that can be implemented right away. Our offered laptop chip level repairing course is in accordance with latest industrial standards and trends. Anyone who wants to make a career in laptop repairs can enroll for this course.
Hugely Appreciated Tablet Repairing Course
Hi-tech institute conducts tablet repairing course in Laxmi Nagar, Delhi which covers all the skills compulsory to repair, service and maintain all types of tablet devices. The training will cover repairs of all major brands of tablets. On completion of the tablet repairing course you can directly work as a service technician or start your very own business in the associated field. With the usage of tools and equipment, you will learn fault finding and repairing in the tablet repairing course.
In-depth and Concise Computer Hardware Repairing Course
Hi-tech institute in Laxmi Nagar, Delhi is the best destination to make a successful career in computer repair. We provide computer hardware course in Laxmi Nagar, Delhi which creates a strong base in computer technology fundamentals. Here you will learn the basic as well as advanced computer repairing techniques. We make students learn about hardware technology for a better career.