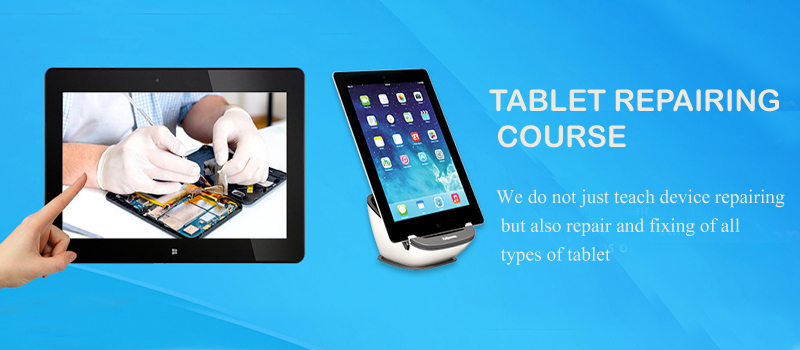 Hi Tech Tablet Repairing course in Laxmi Nagar, Delhi
The tablet repairing institute in Delhi is offered by Hi Tech Institute to prepare learners how to repair and maintain electronic tablets. This course covers all the skills required to repair all types of tablet belongs to any brands. The tablet repairing course Laxmi Nagar, Delhi the training start from dismantling of various models of tablet and gradually covers all the repair procedures related to hardware troubleshooting of various faults. The program is conducted in English as well as in Hindi language. By completing the course a trainee an easily start fixing can either work as worker in any company or can start his own repair shop.
Grow With Our Experienced Team
Under our Tablet repairing course in laxmi nagar you do not just learn device repairing but repair and fix all types of tablet PCs available in the market across brands and specifications. Our team is highly experienced and trained at repairing and fixing faults and damages related to tablet so under the teaching environment of experts you will be able to solve every kinds of issue related to tablet such as broken or faulty sockets, power battery issues, liquid damage treatment, dropped physical damaged tablet etc.
Get Expertise in Tablet Repairing
Our tablet repairing course in Delhi covers a lot of topic some of them are most important such as identification ad usage of tools the equipment that are used while repairing any tablet, how to disassemble and assemble the various models of tablets, how to check the different parts of tablet, soldering and disordering, how to replace of ICs, how to do software installation, fault finding and repairing and many other related topics.
Kick Of Your Own Business
The tablet repairing institute in Laxmi Nagar, Delhi will teach you to repair not only the basic but also the advance faults of various electronic tablets, in short it can be said that you will be taught all the skills that are necessary to repair and maintain tablets in proper way with perfection. We provide all-inclusive knowledge on the tablet repairing training at our highly reputed tablet repairing institute. The syllabus of the tablet repairing institute in Delhi initiates with the fundamentals so that students without technical knowledge of electronics can also easily grab the subject matter. On completion of the tablet repairing institute in Delhi you can instantly work as a service technician or kick off your very own business in the tablet repairing field.
Tablet repairing course in Delhi explains to repair basic as well as advanced faults of electronic device tablet. Here training is provided by extremely qualified team of instructors who have accomplished deftness with the practice of years in the tablet repairing field. We are here to guide you with the significant tablet repair technologies, so if you want to get a bright career in this field than just call us we are waiting for you. And, take enrollment for this course at very reasonable cost.