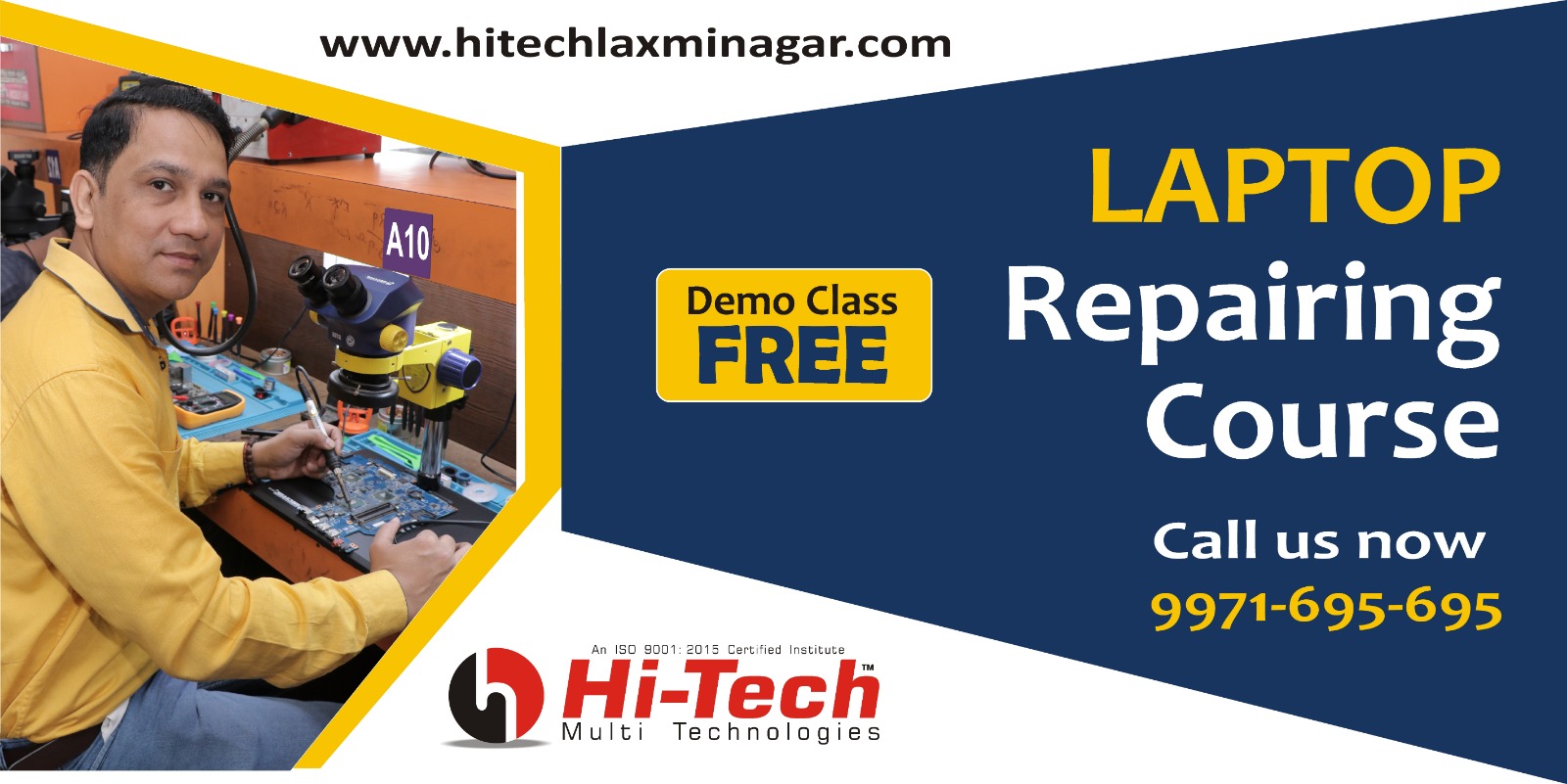 Continuously Revised Laptop Hardware Repairing Course and Institute in Laxmi Nagar, Delhi
Hi Tech Institute is one of the best practical training centres having adequate equipment and training facility for laptop repairing course in Laxmi Nagar, Delhi. Here at Hi Tech we have developed a precise training method specifically designed for all aged people, undergraduates, graduates, postgraduates from engineering and non-technical background, or a 1oth passed student this laptop repairing course in Delhi will enable them to make a career in the circuit repairing business or job. There is now need of any previous knowledge or technical background for doing this course. The thing that makes us unique is that we provide free life time support to our student after completion of the course. Also a general consultancy is providing for centre setup.
Best Quality of Laptop Repair Training
The main aim of this laptop repairing institute in Delhi is to provide the best quality training to those learners who are not capable to afford any high and professional degree because of big amount of fee. The main orientation of the course is to serve the industry with skilled and expert technician. We have a team of qualified teachers who tech you everything deeply and make you understand to diagnose the problem and get the skill that are need for a perfect repair technician.We have been working in this for many years and because of this experience we are able to provide the best quality training, and this laptop hardware repairing course in Delhi is the amazing example of our influence. So, the person who undertakes this course will get good job in highly reputed companies or it they have interest in business than they can start their own business with few investment of money. At present the laptop industry requires huge numbers of technician who have taken quality training and have good knowledge and skill. So, people who are professionally trained they have very good chance at present time.
We Work for Excellence
This is our thought that we must strive for excellence in whatever we do. So, we give our continuous focus to improve in interactions with students, and try to enhance our efficiency of training process so that we produce that are the best. Our Hi Tech institute ensures consistency between its words and action, always by delivering what it commits. And this is the reason that we can thereby maintain transparency, trust and accountability.
Utilize Your Abilities Here
We at Hi Tech maintain focus on our students, both internal and external, by giving them priority. If there is any student who is not so sharp and he is not able to understand things easily then we give them extra care by our special classes. With the help our laptop repairing course in Laxmi Nagar , Delhi. We foster an environment where in our learners can efficiently utilize the abilities, what they have. Utilize your level of knowledge and skill and make yourself perfect by taking admission in our laptop repairing course at our any of the centre.